| | | |
| --- | --- | --- |
| | Pratt Family History | |
Henry George PRATT 1868-1942
Henry George was born on 12 December 1868, in the County of Huntingdonshire, England, while living at Grove Street Fletton. He was the only son of Henry and Sarah Pratt, but he had two older sisters, Georgina and Mary, who at the time of his birth were 5 and 2.
This photo, circa 1886, Henry was aged 16 years.

He was born under the reign of Queen Victoria who would have been 49 at the time. Britain in the age of Queen Victoria was one of the world's richest countries. The Victorians called their age "modern" and thought it superior to all past centuries. It was an age that envisioned an indefinite future of progress with peace and plenty. Wages and working conditions steadily improved. The population of the U K increased in the last half of the 1800's from 28 million to nearly 42 million people.
The age was extraordinarily creative in literature and science. The Victorians did not excel in music or in painting. Architecture actually deteriorated, owing in part to the progress in technology that caused a breakdown of craftsmanship and tradition. Cheap manufactured knick-knacks cluttered Victorian parlours. This era ended with the death of Queen Victoria in 1901 when Henry George was 33. She had been Queen for 63 years but her subjects rarely saw her and she had no real idea of how most ordinary people lived.
Henry George married Emily Maud Child on 8 February 1902 at the Parish Church in the Parish of St John the Evangelist's Kilburn, in the County of Middlesex. Henry was aged 34 and Emily was 26. At the time Henry was living at 106 Ivy Road Cricklewood, and Emily was living at 104 Carlton vale. The bride was given away by her Father, John Child, who was a Builder and Carpenter.
Emily was born 19 or 22 October 1873 at Acton London and was a Nurse Maid. Her Mother died of Plusasee just before Emily was married and her Father died at Chatham when Iris Pratt was a schoolgirl. She had 3 sisters and 6 Brothers (2 died as babies); Nellie (married George Kirby), Charles (1888-1917, died in WW1 aged 19 years), Lily, Lizzy, George, Ted and Alf. Emily died in December 1967 at the age of 94 years in Dorking Hospital. She was cremated at Leatherhead, Surrey.
Henry George and Emily had 5 children (photo taken 1912):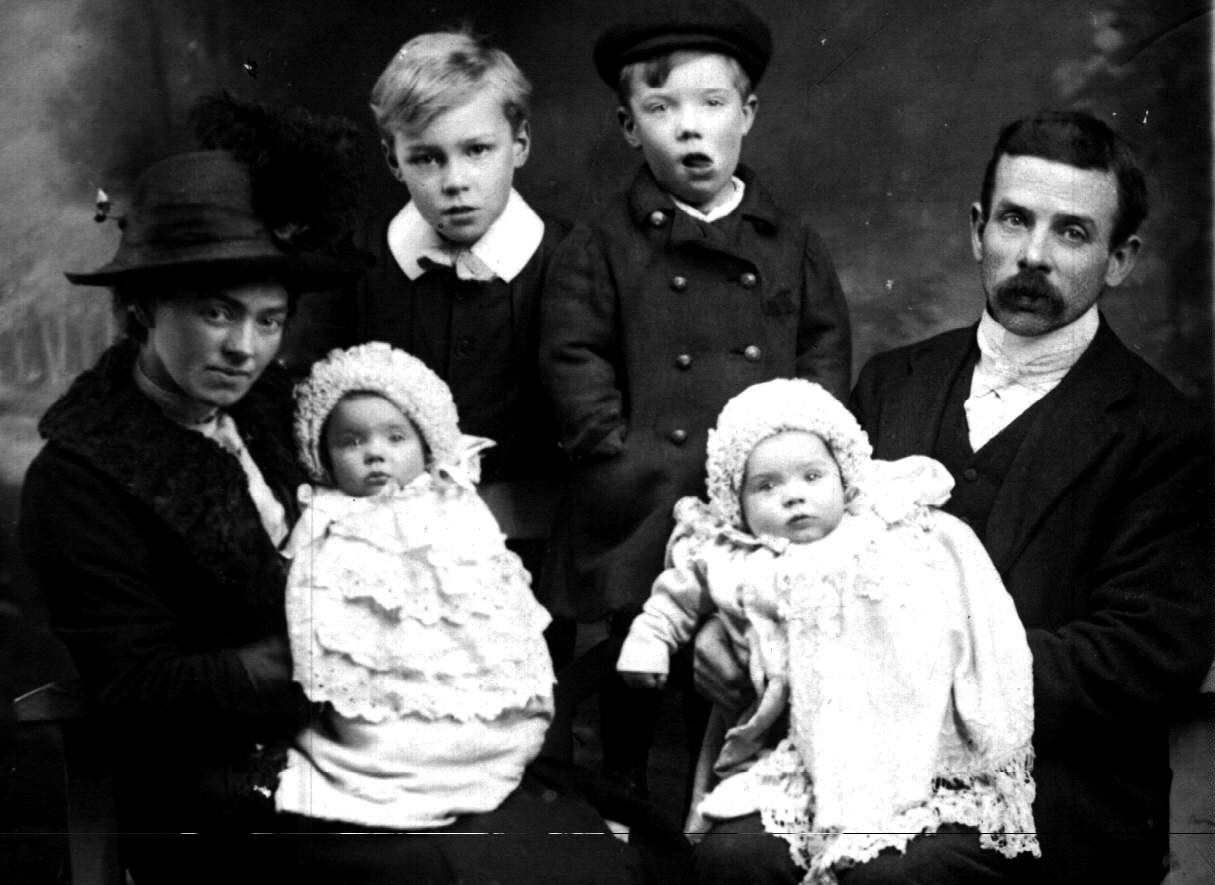 Emily Maud
(age 39)
seated
Cyril George
(age 9)
b. 26 October 1903
d. 5 September 1987,
aged 84.
Charles Edmund
(age 4)
b. 9 February 1908
d. 1 February 1979,
aged 71.
Iris Emily
(age 1)
b. 2-7-1912 (twin)
at Broomsbury London, St Giles Hospital
Vera Edith
(age 1)
b. 2-7-1912 (twin)
d. May 1997
aged 84.
Henry George
(age 43)
seated
Reggie (not in photo) died an infant, due to unboiled milk.
Henry George commenced work at the age of 15, in 1885, as an Engineer-Fitter with the London, Midland and Scottish Railway (LMS). He spent his entire career, 51 years, with this company until his retirement estimated to be in 1935. He saw the change from steam locomotives, which filled the tunnels with clouds of smoke, to electric engines, and by 1900 electric engines pulled many of the underground trains. A weekly wage at the time would have been about 6 shillings a week, working 10 hour days, including Saturday. By 1915, then supporting a young family of 4, his wage was only 30/- a week.
No new railways were built in the 1920s and the only main change was the amalgamation of hundreds of tiny railway companies into 4 major ones; the Great Western; the London, Midland and Scottish; the London and North Eastern; and the Southern. Hendon Central Station was opened in 1924 as part of the London Underground extension to meet the needs of growing suburbia.
Henry smoked a pipe, Shag tobacco was his favourite and he enjoyed his beer too, half mild and half bitter he always had. Once he took the twins out in the pram on a Sunday morning and stopped at the pub and got drunk. He came out and knocked a blind man down. They took him to the Police station.
He died at the age of 73 years, one bitter winter, of Pneumonia at Edgware General Hospital, Edgware, on 31 January 1942 while living at 6 Colton Road Harrow. He was buried on 6 February 1942 at the Wealdstone Cemetery, Plot F-4518.
Grandfathers grave has no gravestone. This is definitely the right row and section but there are about a dozen plots alongside
each other with no gravestones or markings and F4518 would be somewhere in
the middle of the green patch in the centre of the photo. Wealdstone is not a particularly large cemetery and has no buildings. It is quite a small cemetery adjacent to a park/open area in a residential area. I would
have said that the houses were probably built in the early 1930's.
This page was created using MS FrontPage 2000, and a bit of HTML. Nothing here is intended to be a breach of Copyright, and the graphics shown were either created by me, or are Copyright of their individual owners.